Amazon Author Central is a powerful platform for authors, especially if you are self-publishing.
Want to gain more visibility and increase your readership? Optimizing your Amazon Author page can help with this immensely.
But before you rush ahead to get your book launched and marketed, it's important that you take time to set up your Amazon Author Central account, and your Amazon Author page for your book.
Amazon's Kindle Direct Publishing, better known as KDP, is a widely used self-publishing platform that every independent author should have a presence on.
In this post, I will walk you through how to set up and leverage the powerful tools included with Amazon Author Central.
Here's what we'll cover on Amazon Author Central:
What is Amazon Author Central?
Amazon Author Central is the author account hub on the Amazon platform and Kindle Direct Publishing. It is the central place where Amazon authors can set up an account, create a profile page, and include book titles, biography, credentials, and more.
Authors are able to set up an account, and a profile page, so that readers can learn more about you as an author, such as all of your book titles, your biography, credentials, and more.
What is the Amazon Author Central Page?
Your Amazon Author Page is basically a homepage dedicated to you as an author, and the books you have published. When your book is displayed on Amazon, the author's name can be hyperlinked, and when the customer or reader clicks on the author's name, the customer is taken directly to the author's page.
You can use your Amazon Author Page to personalize a page specifically featuring information about you as an author, and the books you have written. While it's a super-powerful platform for indie and self-published authors, it's also powerful for traditionally published authors. Any author that has written a book that's sold online or in-store should have an Amazon Author Page.
Related: Self Publishing vs. Traditional Publishing

Here's why your Amazon Author Central is important as a self-published author:
#1 – Your Amazon Author Page provides a handy place for readers to learn about you. Helping customers get to know you is an effective way to introduce them to—or better educate them about—your books.
#2 – It is used to personalize the contents of the Author Page dedicated to your books. It is here—in Author Central—that you can manage all your book details when it comes to listings on the Amazon page.
#3 – It's a free page dedicated to you specifically on a powerful, global platform (Amazon.com). The main purpose of author central is for you—the author—to build out and customize your author page. This means that you get a personalized space on one of the largest ecommerce platforms and self-publishing company to showcase yourself and your books. By setting up your author platform through Author Central, you are giving yourself a huge advantage by staying current with your book success and delivering to readers the best experience possible when they land on your book page. The main purpose of author central is for you—the author—to build out and customize your author page.
Reasons to use Author Central
Setting up and optimizing an Amazon Author Page using Amazon Author Central is a very smart idea for several good reasons. First of all, potential readers can take an immediate interest in your work.

So, who can create an Amazon Author Page? An author with a published book on Amazon!
Yes, as soon as you launch your first book you can get to work on setting up and maintaining your most prolific profile, next to your own website. You don't have a website yet? Then you definitely need to maximize on your Amazon page.

Related: How to Become an Author
In fact, if you're not maximizing and optimizing your author page, you are missing out and leaving money on the table.
Your Amazon Central Account acts as your personal website on Amazon even if you don't have a website yet.
Top reasons to create an Author Central account:
Author Page. You can set up and optimize your Amazon Author Page, which acts as your own personal webpage on the Amazon platform.
Book Interest. It can generate interest in your books
More Readers. Potential readers can easily find information about you and your work
Visibility. Increases your readership on Amazon's KDP
Author Brand. Helps you build an author brand and presence
Free. It's a powerful tool that's completely free. Read more on self publishing costs here.
How to Join Amazon Author Central
First, assuming you have just published your book, the next step is to go to Amazon Author Central and click "Join Now."
If you haven't published a book on Amazon yet, you'll want to follow the steps on how to publish an eBook. There are many technical steps to consider, especially when it comes to your formatting and files (such as EPUB vs MOBI).
Sign in with your regular Amazon username and password. If you don't have an account, select "I am a new customer." You'll need to give a little more information.
Read the Terms and Conditions then click "Accept."
Enter the author name your books are published under. A list of possible books appears. Select your book to set up the account.
If your book is not in the list, you can search for it by title or ISBN.
Note: Your book must be available for purchase on Amazon in order to set up an Author Central Amazon Account.
Amazon will send you a confirmation email to finish creating the account.
Here are the steps to join Amazon Author Central:
Go to Amazon Author Central.
Click "Join Now."
Sign in with your regular Amazon.com username and password, then skip to Step 7.
If you don't have an existing Amazon account, click "I am a new customer."
Read the Terms and Conditions.
Click "Accept."
Enter your author name.
Select your books. If your book is not in the list, search for it by Title or ISBN.
Amazon will send you a confirmation email to finish creating the account.
Improve author branding with your Amazon Central Author Page
If you're an author (and that is why you're reading this post we can assume) you have published, or are planning to publish a book. This means readers scoping through the Kindle Store are going to find your books and, when they do, will land on your Amazon author page, which is set up in Amazon Author Central.

The first impression potential readers will get is what they see when they get there, which means it's crucial that you make a superb first impression.

This is very important because most authors just starting out don't have a website yet. If this is you, the best thing you can do for your career as an author is focus on what you have, and what you have is, a free tool available right now that showcases your book.

Now, while there are limitations to what you can do in terms of customization on your Author Page, this shouldn't be an obstacle by any means. Take advantage of what is freely given, and leverage it so your books can thrive.

By now you are probably wondering, "Okay, so what does a great author page look like?"

Let's check out thriller fiction author, David Archer. His author branding for his thriller action books is jumping right off the page.

This author homepage is your opportunity to fully brand yourself. Let's take a look at James Patterson's Author page.
Now, you may not have as many books as he has, or be at the same level in your writing career, but this doesn't matter.
What is important is that you build out your page from your first book and you continue to consistently improve it.

These are just two of several author pages we will look at. But the obvious component all successful authors have is, they are able to customize the reader experience through branding their author page in Amazon Author Central.

Keep the importance of author branding in mind as you move on to the next step, which is creating and optimizing your Amazon Author Page.

Optimize Your Author Central Page
Setting up your Amazon Central account is very straightforward. But your Amazon author page will take work, especially when you focus on the core essentials and work to optimize your page to its fullest. And, it is something that is an ongoing project as an author.
You're never really finished with your author page because you have to update it regularly. When you launch a new book, a new blog post, updating your author bio, or managing editorial reviews, you will be customizing everything within the Amazon Central hub.
Let's break down what goes into a professional author page.
There are 8 core features you can optimize for your Amazon Author Central Page:
Professional Author Photo
Well-Crafted Bio
A Row of Your Books Running From Left to Right
Book Reviews
Editorial Reviews
Book Trailers of Your Books
Direct Feed to Your Most Recent Blog Articles
+ Follow Button
Here's a helpful video from YouTuber Self-Publishing with Dale on how to optimize your Amazon Author Page…
How to Create an Amazon Author Page
Now that you understand the importance of setting up an author page in Author Central, as well as the critical components to optimize, you can start to create your own page.

In this section, we'll go through the steps on how to create an Amazon Author Page in more detail, with thorough examples and tips for success.

Here are the steps to create an optimized Amazon Author Page:
Create a compelling biography
Connect your blog feed
Customize your Amazon URL page
Add professional author photos
Add promotional videos
Claim your books
Insert editorial reviews
#1 – Step 1: Create a compelling biography
Taking the time to write a killer author bio is a way to connect directly with your Amazon browsers and can creatively draw interest from new readers for your work. 

As an author, you need a biography that intrigues readers, and gets them excited to learn what your books are about.

Your biography should be composed of at least 100 characters and include relevant information about your mission, who your audience is, a tagline that describes the type of writer you are, and credentials or achievements that make you an authority in your field.

Here's what to include in your bio for your Amazon Author Page:
Your opening hook
Credentials, awards, or degrees earned
Field of study [teacher, doctor, or meditation artist]
Fun facts [Hobbies you enjoy, personal interests]
How to find you [www.mywebsite.com]
Other literary achievements
Here are some examples of compelling author biographies from different genres:
#1 – Lee Child, Jack Reacher Series:
"Lee Child is one of the world's leading thriller writers. He was born in Coventry, raised in Birmingham, and now lives in New York. It is said that one of his novels featuring his hero Jack Reacher is sold somewhere in the world every nine seconds.

His books consistently achieve the number-one slot on bestseller lists around the world and have sold over one hundred million copies. Two blockbusting Jack Reacher movies have been made so far. He is the recipient of many awards, most recently Author of the Year at the 2019 British Book Awards. He was appointed CBE in the 2019 Queen's Birthday Honours."

From Lee Child's Amazon Author Page Bio
#2 – Eckhart Tolle, The Power of Now:
"Eckhart Tolle is the author of the New York Times bestsellers The Power of Now (translated into 33 languages) and A New Earth, which are widely regarded as two of the most influential spiritual books of our time. In 2008, A New Earth became the first spiritual book to be selected for Oprah's Book Club as well as the subject of a ten-week online workshop co-taught by Eckhart and Oprah.

Eckhart's profound yet simple teachings have helped countless people throughout the world find inner peace and greater fulfillment in their lives. At the core of the teachings lies the transformation of consciousness, a spiritual awakening that he sees as the next step in human evolution. An essential aspect of this awakening consists in transcending our ego-based state of consciousness."

From Eckhart Tolle's Amazon Author Page Bio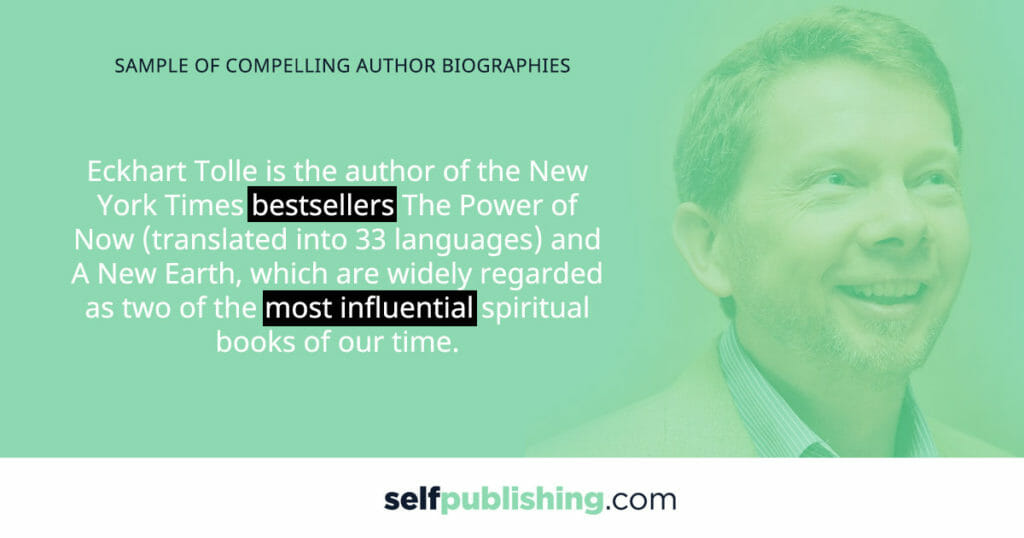 #3 – S.J. Scott, Habit Productivity Books
"Getting more from life doesn't mean following the latest diet craze or motivation program. True success happens when you take action on a daily basis. In other words, it's your habits that help you achieve goals and live the life you've always wanted.

In his books, S.J. provides daily action plans for every area of your life: health, fitness, work and personal relationships. Unlike other personal development guides, his content focuses on taking action. So instead of reading over-hyped strategies that rarely work in the real-world, you'll get information that can be immediately implemented.

When not writing, S.J. likes to read, exercise and explore the different parts of the world."

From S.J. Scott's Amazon Author Page Bio
Based on those examples, you can clearly see why author branding is important – no matter if you are writing a novel or writing a nonfiction book!
Here's how to create a compelling author bio for your Author Page:
Sign in to your Author Central account.
Click the "Author Page" tab.
Select "Biography."
Write up a bio consisting of at least 100 characters. No HTML included.
When you're finished, click "Add biography" to save.
To edit and/or update, simply click on the "Edit Biography", add your updated content, and click "Save."
#2 – Step 2: Connect your blog feed
How about this: If blogging is one strategy you use to connect with your readers, imagine your blog post being funneled onto your Author Page when you publish a new post. That is what happens when you connect your blog feed to Amazon Central.
Here is how to connect your blog feed to your Amazon Author Page:
Sign in to your Amazon Author Page.
Select "Blogs."
On the Author Page tab, click "Add blog."
Enter the RSS address for your blog, then select "Add."
The great thing about this feature is, when you publish a blog either through Wordpress or another site, it will be automatically funneled into your blog feed on Amazon.
This shows your audience that you keep your platform active and current.
#3 – Step 3: Customize your Amazon URL
You definitely want to customize your Amazon URL so it looks professional, instead of a long, garbled link where it's not clear what people are clicking on.

You can create a customized URL link, so when people see your link, they have a pretty good idea what it's related to.

Your Amazon URL directs people to your Author Central Page, where they can check out your books and platform, and learn more about you as an author.

Once you customize your Amazon Author Page URL, you will share this link everywhere you can: on your blog posts, email signatures, social media platforms, and more.
Related: How to Build an Email List

Try to use your author name in the URL, but if it's taken, you can add a number, or word related to your books. The key is for it to represent you and your authorship, so try not to get too creative with it, which can confuse people.

Here are the steps to create your custom Amazon Author Page URL:
On the Author Central Profile tab, click add link next to "Author Page URL."
A URL will be suggested; however you may enter text that meets the following guidelines:
Must be at least 1 character and no more than 30 characters
May use letters, numbers, dashes, periods and underscores
No spaces
No special characters other than dashes, periods and underscores
No profanity
If the URL you input is available, click Save.
Your Author Page URL will go live in approximately 30 minutes.
For more information or help, you can visit this support page on Amazon: Creating Your Author Page URL
You can only have one Author Page URL. If the URL you want is unavailable, try alternate URLs until you find a unique URL that is easy for your readers and followers to remember.
#4 – Step 4: Add author photos
You can add photos to your feed, which is a great way to engage potential readers with a visual element that represents you.
Your author photo is the most important picture you will upload. It should be a professional profile shot, high quality, with your face clearly visible in good lighting.
In addition to your profile pics, you should also upload photos of yourself delivering a speech, conducting a workshop, or the cover photos of your other books. You can add up to 8 photos here.
How to add photos to your Amazon Author Page:
Sign in to your Amazon Author Central account.
Select "Photos" on the Author Page tab.
Click "Browse" and select the picture you want to use.
Confirm you own the rights to the picture.
Select "Upload photo." You can upload this from your desktop or Dropbox.
If you are adding multiple pictures, select "Manage" and drag the photos into your preferred order.
Make sure your author headshot photo is the first photo in the order, so that it appears in the author photo slot on your main page.
#5 – Step 5: Add promotional videos
Do you have a video trailer for your books? An introductory video welcoming readers to your platform? If so, this is where you can showcase your videos by uploading to Author Central.
Here is where S.J. Scott does a good job of this by showing his video for habits, a topic he has written many books on.
For video, ensure that the video meets Amazon requirements:
Either mov, mpg, avi, flv, or wmv format,
Smaller than 500MB, and;
Less than ten minutes long.
Here is how to add video to your Amazon Author Central Page:
Sign in to your Amazon Author Central account.
On the Author Central Profile tab, click "Add video."
Click "Browse."
Select your video file.
Click the box to confirm you own or have cleared the rights to the video you are adding.
Click "Upload video." (This can take up to 24 hours to completely process, and Amazon should send an email when the video is ready to go.)
When it's ready, review and approve your video. Check the box that you've reviewed the video, then click "Approve video."
You can have up to 8 videos in your feed. To see more about the guidelines for uploading video content, check out this help page on Amazon for uploading video content.
#6 – Step 6: Claim your books
When you publish a new book, the first thing you want to do is go into Author Central and claim that book as yours. This ensures your title shows up on your Amazon Author page and leads to discoverability by potential readers.
Here's how to claim your books in Amazon Author Central:
Click the "Books" tab.
Select the "Add more books" option.
Search using either your author name, the book title, or the ISBN.
Click the "This is my book" button.
Your book will then appear in your lineup within 24 hours.
As soon as the book is listed on your page, you can review the sales ranking, and how many rankings the book went up or down within the day/hour, and Amazon customer reviews.
Related: How to Write a Book Description
#7 – Step 7: Insert editorial reviews
Reviews are extremely important for selling books. For this reason, you want to be sure you are taking full advantage of the reviews readers are leaving for your book.

Another great feature is being able to post snippets from your best reviews in the editorial section. To include review snippets on your book page, Amazon has an editorial reviews section that allows authors to post up to 5 testimonials, reviews or comments about you or your books.

You can showcase reviews from other well-known authors, influencers, and Amazon Top Reviewers.

If you don't have any reviews from any of the above mentioned, fans of your books who have left glowing reviews supporting you and your work is a great place to start. You can post the best 5 reviews on your page.
Here is how you add reviews to your Amazon Author Page:
Select the "Books" tab.
Choose the book you want to add reviews to.
Select "Add" under Editorial Reviews and follow the provided instructions.
Preview the review and when you're ready, hit "Save."
Here is an example of the editorial review page for Brené Brown's bestselling book Dare to Lead:

Create a Series Page for a Book Series
One of the unique features of your Amazon Author page is, Amazon has a system in place for authors who have created a series of books.
Related: How To Create a Book Series Box Set
This is a great way to show readers you have multiple books built around your central character if you are a fiction author. Some of the highest paid authors use this strategy.

Here are two examples below that show you exactly how to maximize this.

Lee Child and the Jack Reacher Series:
Mark Dawson and the John Milton Series:
Remember, Amazon wants authors to sell more books, and by creating a book series page, readers can easily buy your books in bundle sets.

In fact, Amazon will tell you how many books out of the series a reader has purchased and, how they can grab the rest of those books just by clicking through and adding up the ones they haven't bought yet.

But be careful…you could end up buying a lot of books!

If you do have a series of books and want to create a series page, here are the steps and Amazon requirements for this to happen.
Create an International Amazon Author Page
One of the great features of Amazon and self-publishing is that, as an author, your book can be available worldwide on many other international sites in the UK, Canada, China, France, India, Germany, Japan, and more. And best of all, the number of sites available is continuously expanding.
So, now that you are set up on the US store [assuming that is where you started] you can now focus attention towards doing the same for your international markets.

To create your author page and sign into author central on international sites, here are four international author central sites for you to start with:
Tips to Manage Amazon Author Central
A critical mistake many authors make is by not updating their Amazon Author Page as often as they should.

Fortunately Amazon makes it easy for authors to do this by giving authors access to the back end of Author Central. At anytime, you can upload new photos, videos, blog posts, and integrate new keywords to optimize your book sales.

Here are four tips to make sure you are updating your author page regularly so it looks like you are current with new trends and active in building your brand.

#1 – Editorial reviews
If you publish multiple books, make sure to include editorial reviews for the book page. Do this as soon as you have five good reviews to post.

#2 – Update your author bio
It is recommended you update your author bio at least once every two years. If you have a new win, launch a new lead magnet and need to update the landing page URL, or make an improvement on your author pic, update it as soon as you can.

#3 – Update international sites and the Amazon Author Beta Program
You should be updating your international sites at the same time to maximize your potential international revenue.
#4 – Start a blog
There is a rumour that blogging is dead. But the fact is, blogging is still a great way for you to provide free content to your readers. This feeds right into Amazon Central if you have connected your blog feed here. Need to learn how to blog like a pro? Check out Ruth Soukup's Elite Blog Academy


Checklist: Set up your Amazon Author Page
Here is a simple 12-point checklist so you can easily create, manage and update your Amazon author central account.
Visit the Author Central help section here: https://authorcentral.amazon.com/gp/help
Set up your account here: https://authorcentral.amazon.com/gp/home
Create your author bio
Customize an author page URL
Upload photos of books, author pic
Upload videos of events, book trailers
Connect your blog RSS feed.
Add Review snippets [editorial reviews] to your book pages
Claim all of your books
Check your + Follow Button
Create International Pages: Upload pictures, video and author bio to international sites
Continue to update and improve your page
Frequently Asked Questions: Amazon Author Central
In this section, we'll tackle the most frequently asked questions that weren't directly mentioned in the above steps. We'll be continuously updating this section with new information as it comes.
If you have a specific question that isn't mentioned in this post, let us know in the comments and we'll be happy to take a look and help find an answer.
How do I find my Amazon Author Page?
Finding your Amazon Author Page will depend on whether or not you have an account. There are a couple different ways to access an existing Author Page.
To create an Amazon Author Page, you will need to have already uploaded your book to KDP. Then, you can follow the steps here to create your Amazon Author Page.
To login to your existing Amazon Author Central account and access your page, follow these steps:
Go to Author Central.
Click "Sign in."
Enter your existing credentials.
Click "Sign in."
Click the "Author Page" tab.
To find your existing Amazon Author Page, you can access it these ways:
Using your Amazon Author URL
Click on the "Author Page" tab when signed in to your Author Central account
Access your book's page from the Kindle Store, and click on the author name in blue
How do I remove a book from my Amazon Author Page?
It's important to note that a physical book can't be completely deleted on Amazon, which is why we always recommend that authors are completely ready to hit publish on KDP. If you've only published eBooks, then this is a feasible option.

If you're listed as the author of a book you did not write, follow the steps listed here to remove the book from your bibliography.

If you're physical book is out-of-print, Amazon will not remove it because of that reason, since used copies of the book from third-party sellers may still be sold.

If you need to unpublish a book from your Amazon Author Page, you can do so. To unpublish a book on Amazon, follow these steps.

This will prevent eBooks from being sold to customers, as they won't be able to find it when they are shopping in the Kindle store.

Authors often unpublish and republish their eBooks, especially when changes are made to the book's contents or design. For example, many authors republish an eBook with a revised cover design or under a new title.
Is Amazon Author Central free?
Yes, it is free and costs nothing to create your Amazon Author Central account and set up your Amazon Author Page.
However, you will have to meet the criteria and requirements to do so, such as by having a book published on KDP.
If you haven't published your book on Amazon KDP yet, you will have to do so before you can create your Amazon Author Central account.
How many Author Central accounts can I have?
You can have up to three Author Central profiles on your Amazon Author Central account. This allows you to create different Author Pages for different pen names or pseudonyms that you publish under.
To add another Author Central page to your Author Central account, you'll just have to follow the steps to Add More Steps and select the published book with your pen name. If you haven't yet published the book with a pen name, you'll have to do that first.
Creating more than one Amazon Author page is important because it helps you keep your branding separate, depending on the genre of books you publish. For example, maybe you become an author by starting with learning how to write children's books, then later move on to adult nonfiction…having separate accounts is easier to manage your brand for each!
---
Now that you have a complete blueprint for setting up your Author Central Account and building out an optimized author page, it is time to get started.

After setting up your author page, drop the link in the comments below. We'd love to see your finished page.
What questions do you still have about Amazon Author Central?