Your About the Author page can be the beginning or end of a potentially beautiful relationship with your reader.
Everyone has different reading habits. Some potential book buyers see a beautiful cover and immediately flip to the back page to read more about the author. Others will read the entire book and look at the About the Author page last. Some skip the author page altogether.
Not me. I'll wait until I finish reading the book and then decide if I'm motivated enough to read more about the author.
Whatever the case, if you look at every page of your book as a potential hook for your reader, then creating the About the Author page takes on new meaning.
Let's look at how to create an author page and optimize it for the best results.
Why is an About the Author Page important?
When a book is satisfying, the author has me right where they want me—ready to learn more, buy more, or at the very least follow them on social media to see what they're up to. But, if the About the Author page fizzles, the momentum ceases, and I often move on to the next author.

Every part of your book matters. From the cover to the last page, there's an opportunity for you to grab the reader and pull them into your world.
What should an About the Author page include?
The basic framework of an About the Author page includes
1. Professional profile picture
This is optional, but readers are generally curious about what an author looks like.
If you choose to add a picture, you don't have to use a professional photographer to achieve a professional-looking headshot (unless you want to). A great camera (a smartphone works), a clean, uncluttered background, direct eye contact, and a nice smile should do the trick.
2. Opening
The opening should include 1-2 sentences that focus on you as the author. They should answer the question, "What words best describe who I am to my ideal reader?"
3. Body
The body of the content should offer details about the books you've written, your area of expertise, and any additional background information relevant to you as an author. This can include awards, education, and your day job (if not a full-time writer).
4. Closing
This is where you leave your reader with something personal, like your life or writing philosophy, where you currently reside and with whom (optional), and your contact information (very important).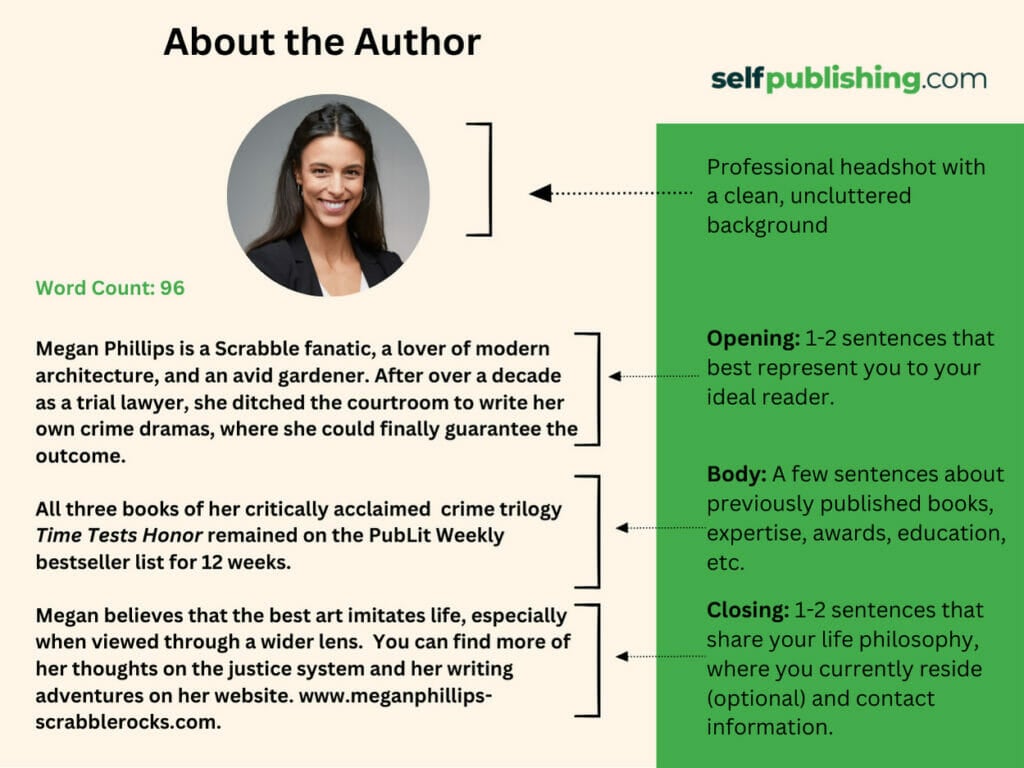 Whether your book is fiction or nonfiction, the trick to creating an engaging About the Author page is to know your audience.
Interestingly, the National Institutes on Health weighed in on the universality of reader engagement when it said, "Your language choices will make or break your connection with your readers." This statement is true no matter what you're writing. (btw: Their article on using plain language in documents to connect with your audience is applicable to About the Author pages, a short read, and worth a look.)
Traditionally, About the Author pages are written in the third person and are short—50-100 words, but below I'll share a few examples that break those rules but still work. As with any type of writing, it's always best to learn the rules first and then decide whether or not you want to break them.
Let's take a look at some About the Author examples.
Melanie Bennett Jacobson
Category: fiction, romantic comedy
Word count: 90
Melanie Bennett Jacobson is an avid reader, amateur cook, and champion shopper.
She consumes astonishing amounts of chocolate, chick flicks, and romance novels. She grew up in Louisiana and now lives in Southern California with her family and a series of doomed houseplants. She holds an MFA in Writing for Children and Young Adults from the Vermont College of Fine Arts and is the author of nine romantic comedies and several novellas.
Visit melaniejacobson.net to sign up for Melanie's newsletter and get a FREE copy of Love, Not Luck.
SP Note: Melanie Bennett Jacobson's author page hits the sweet spot of adding just enough about yourself to keep things interesting.
Brian Tracy
Category: nonfiction, business, motivation
Word count: 165
Brian Tracy is one of the top business speakers in the world today. He has designed and presented seminars for more than 1,000 large companies and more than 10,000 small and medium-sized enterprises in 75 countries on the subjects of Leadership, Management, Professional Selling, Business Model Reinvention, and Profit Improvement. He has addressed more than 5,000,000 people in more than 5,000 talks and presentations worldwide. He currently speaks to 250,000 people per year. His fast-moving, entertaining video-based training programs are taught in 38 countries.
Brian is a bestselling author. He has written more than 80 books that have been translated into 42 languages, including Kiss That Frog!, Find Your Balance Point, Goals!, Flight Plan, Maximum Achievement, No Excuses!, Advanced Selling Strategies, and How the Best Leaders Lead. He is happily married, with four children and five grandchildren. He is the president of Brian Tracy International and lives in Solana Beach, California. He can be reached at [email protected].
SP Note: Brian Tracy's bio is on the long side, but he's written more than 80 books, so he needs the extra room. This author page works because the information focuses on establishing him as an expert in the marketplace. As a motivational speaker (or if you want speaking engagements as an author), using your About the Author page as a business card is a smart move.
Rob Sinclair
Category: fiction, espionage
Word count: 124
Rob specialized in forensic fraud investigations at a global accounting firm for thirteen years. He began writing in 2009 following a promise to his wife, an avid reader, that he could pen an 'unputdownable' thriller. Since then, Rob has sold over a million copies of his critically acclaimed and bestselling thrillers in the Enemy, James Ryker, and Sleeper series.
His work has received widespread critical acclaim, with many reviewers and readers likening Rob's work to authors at the very top of the genre, including Lee Child and Vince Flynn. Originally from the North East of England, Rob has lived and worked in a number of fast-paced cities, including New York, and is now settled in the West Midlands with his wife and young sons.
SP Note: Rob Sinclair writes thrillers, so telling his reader that he used to specialize in forensic fraud investigations is smart. He sets the foundation early that he is qualified to write thrillers—a great way to entice new readers.
Karen Kingsbury
Category: fiction, contemporary Christian (multiple genres)
Word Count: 82
Karen Kingsbury, # New York Times bestselling novelist, is America's favorite inspirational storyteller, with more than 25 million copies of her award-winning books in print. Her last dozen titles have topped bestseller lists, and many of her novels are under development as motion pictures. Her Baxter Family books are being developed into a TV series slated to debut soon. Karen is also an adjunct professor of writing at Liberty University. She and her husband, Donald, live in Tennessee near their children and grandchildren.
SP Note: For multiple-book authors, figuring out how to encapsulate all you've done in less than 100 words can be daunting; however, Karen Kingsbury's author page distills the information into a snippet that's easy to digest.
Allan Dib
Category: nonfiction, marketing
Word Count: 103
Allan Dib is a serial entrepreneur, rebellious marketer, technology expert, and bestselling author.
He has started and grown multiple businesses in various industries, including IT, telecommunications, and marketing.
One of his previous businesses was in the telecommunications industry, where he faced heated competition from multibillion-dollar, multinational competitors. In four years, Allan grew this business from a startup to being named by Business Review Weekly (BRW) as one of Australia's fastest-growing companies, earning a spot on the coveted BRW Fast 100 list.
Allan is passionate about helping businesses find new and innovative ways to leverage technology and marketing to facilitate rapid business growth.
SP Note: Allan Dib's author page provides a noteworthy nonfiction template for first-time authors. He focuses on his experience within the industry and establishes himself as a subject matter expert. Similar to Brian Tracy's bio, he uses the page efficiently as a business card.
K.M Weiland
Category: nonfiction, writing and fiction, science fiction
Word Count: 130
About the Author: K.M. Weiland lives in make-believe worlds, talks to imaginary friends, and survives primarily on chocolate truffles and espresso.
She is the IPPY, NIEA, and Lyra Award-winning and internationally published author of the popular writing guides Outlining Your Novel and Structuring Your Novel, as well as Jane Eyre: The Writer's Digest Annotated Classic, the dieselpunk adventure Storming, the medieval epic Behold the Dawn, and the portal fantasy Dreamlander.
When she's not making things up, she's busy mentoring other authors through her award-winning blog Helping Writers Become Authors. She makes her home in western Nebraska. Visit her on Facebook or Twitter to participate in her Writing Question of the Day (#WQOTD). You can email her at [email protected].
SP Note: At 130 pages, K.M. Weiland's bio is longer than average; however, since authors make up a large portion of her audience, establishing credibility for the discerning crowd is critical. She does this by using a large portion of the content to share her literary accomplishments and the success of her books. Her About the Author does a great job of balancing the fact that she's here to help fellow authors outline their books and learn how to become successful authors while highlighting her own literary accomplishments.
Jenny B. Jones
Category: fiction, multiple genres
Word Count: 99
Get a free book from Jenny by signing up for her infrequent newsletter. Your Free Book is Just One Click Away.

Award-winning author Jenny B. Jones writes romance, mystery, and YA with sass and Southern charm. Since she has very little free time, Jenny believes in spending her spare hours in meaningful, intellectual pursuits, such as checking celebrity gossip and pursuing her honorary PhD in queso. Jenny digs foster care, animal rescues, and her adorable son. She lives in the great state of Arkansas, where she's currently at work on her next novel and loves to hear from readers.
Note: Her About Author page begins with a CTA (call to action), which invites readers to join her email list and engage with her immediately – a great marketing move! The rest of her bio is personal and engaging despite being written in the third person. Why it works: she gets her audience. Her tone and light humor carry over from her books seamlessly.
Emily Conrad
Category: fiction, contemporary religious
Word Count: 58
Emily Conrad writes contemporary Christian romance that explores life's relevant questions. Though she likes to think some of her characters are pretty great, the ultimate hero of her stories (including the one she's living) is Jesus. She lives in Wisconsin with her husband and their energetic coonhound rescue. Learn more about her and her books at emilyconradauthor.com.
SP Note: Emily Conrad's About the Author page is only four sentences. It doesn't say anything about her books, how many she's written (multiple), or her accomplishments; however, she points the reader to her faith – the 'why' behind her writing Christian books. This is another example of knowing your audience and aligning your messaging with reader expectations.
Final thoughts
Whenever I read a great book or hear about one, I want to know more about the author and what makes them tick. And if the book is impactful enough to get me to change how I do or think about something—like Atomic Habits by James Clear or Build a Second Brain by Tiago Forte, I'm intrigued about what in the author's life prepared them to write such a book.
Truthfully, I'm disappointed when the About the Author page contains little more than a brief bio that I could get from the back of the book. After reading a great book, I want to engage with the author and learn about their other books, courses, or live events.
If you want to write an About the Author page that gets noticed, show your reader who you are beyond the surface because that's how real relationships are forged. You may never meet your reader face-to-face, but by welcoming them into your world, you offer an open invitation for them to welcome you into theirs (and their bookshelf).