How much does it cost to publish a book realistically?
Warning: if you're looking for the cheapest way to publish a book, this guide probably isn't for you.

This guide takes a realistic look at publishing costs.
But not just any book – how much does it cost to publish a book that's super high quality, that attracts readers, and doesn't scream amateur. How much does it cost to publish a book on Amazon? And how much does it cost to publish a book traditionally?

Even with limited tech skills, anyone…and yes, anyone…can publish a book. But that isn't always a good thing.
Since self-publishing allows anyone to write a book, there are now millions of eBooks on Amazon, many not selling, because there are many authors who decided to publish on the cheap and not invest in the quality of their book.

You don't want to know the cheapest way to publish a book. Because, let's face it – publishing a book on the cheap means your book will likely look cheap. No one wants to read a low quality book. 

The more you invest time, effort, and – yes – money,  into your book, the more successful your book will be. And your book needs a fighting chance against all of the other titles struggling for space on Amazon and other platforms.

That's why we're answering the question: How much does it cost to publish a book that is truly high quality? So those of you who want to become an author can have a good idea of what it will cost you to have a chance of success in the industry.
And although technology has made it easier to self-publish a book, authors still need to invest time and money into creating a high quality book.
This blog on how much it costs to publish a book will cover these topics:
What Makes a High Quality Book?
These are the main elements of a high quality published book: 
A catchy, quality cover that looks professionally designed

Strong, fluid writing

Free of grammatical errors and typos

Thorough editing for grammar, syntax, word choice, and style

Professional formatting design with zero formatting errors (like extra spacing, awkward page cut-offs, etc.)

High quality images and illustrations
Now that you know what makes a high quality book, you can start to get a better idea of what's needed from a budgeting perspective as you consider the how much it costs to publish a book that will sell. So now let's answer the question: How much does it cost to publish a book?
How Much Does it Cost to Publish a Book?
The average cost to publish a book falls within the $200-$2500 range and includes publishing costs such as cover design, editing, formatting, and book printing.
However, it's important to note that the publishing type you choose will also factor into the how much it costs to publish a book.
For example, if you are traditionally publishing a book, your costs will look different than self-publishing.
How much does it cost to publish a book traditionally?
With traditional publishing, it is costing you time and book royalties, whereas with self-publishing it is more of an up-front cost that allows you to earn more over time. Let's brea down the costs of traditional publishing.
How much does it cost to publish a book traditionally?
If you're using a legitimate publisher, and not a vanity publisher, it should not cost you anything to publish your book. If a publisher is asking for a fee in order to accept your book – that is not an actual publisher, that is a vanity publisher. 

A traditional publisher often has in-house editors, formatters, illustrators, and designers that will take care of your book's production, so how much it costs to publish a book should be nothing up-front.
Sounds great, right? Well, not so fast. 

If you're going through a traditional publisher, it's true that you won't have to pay for production services directly. But you are paying for it in other ways.
Here's how much it costs to publish a book with a publisher:
Creative control. You'll be giving up the right to give creative direction and the final say in your book's production. This means you most likely won't have a say in the final cover design and editing. 

Lower royalty rates. Traditional publishers take care of all the up-front production costs for you, but this means there are more hands in the pot. When it comes for your royalty rate, the publisher wants to be sure they will earn their money back, which means you'll get paid less. 

The rights to your book. When a publisher accepts your book, you sign a book contract that gives the publisher the right to publish your book, and ultimately, the rights to your book altogether.

Time. It can be a huge waste of time to try to get a publisher to accept your manuscript. Even if your book is accepted, going through a publisher means your at the mercy of the publisher's timeline. Your book will likely take more time to get on the market.
If you still want to go the traditional publishing route, go for it! Just know that it's extremely competitive to find a literary agent and a publisher, so you may end up having to self-publish anyway. So now let's talk about how much it costs to publish a book when you choose to self-publish.
How much does it cost to publish a book on Amazon? 
Amazon KDP is the leading self-publishing platform, and it is free to publish your eBook on that platform.

But, actually publishing your book on Amazon is the final step in the publishing process, which means there are some costs associated with getting your book ready to be published to ensure quality for your readers.

Investing the money to have your book ready to be published on Amazon is a crucial step in actually setting your book up for success on the platform. This is where the bulk of the costs to self-publish come into play.

While the cost of publishing a book on Amazon is free, you shouldn't publish your book without having spent any money. To self-publish your book the right way, you have to invest in professional services, tools, and education, to ensure that your book meets the quality that readers deserve. So then, how much does it cost to publish a book on Amazon all in?
What is the average overall cost to self-publish a book?
As a published author of 12+ books, I've found that on average the cost of publishing a book is about $2,000 from start to finish. 

This does not include advanced marketing expenses, such as BookBub ads and Amazon Ads, which we'll cover later. This cost to self-publish is just to get your book on the market. 
Of course, you can publish for less, but anything under $1500 is pushing the limits on quality.
On the other hand, you could spend well over 10k if you have the budget. For a first-time author, or if you don't have a platform, this would be a big expense, proving difficult to recoup on your investment unless you had additional services available as an up-sell.

If you're on a budget and need the cheapest resources there are, you can definitely still publish a book. But you should know that to get your book's quality to where it needs to be, this will cost you more time and effort if you're on a tight budget.

Even though you are putting in money up front to publish your book, your investments will pay off once your book starts selling. To answer the question: "How much does it cost to get a book published?" for yourself, can use this Book Profit Calculator. It will help you to determine how many books you need to sell, and at what price, to earn back your initial costs.
As you can see, how much it costs to publish a book on your own will depend on your situation. On average, the cost to self-publish a book should be around $2,000 if you want your book to be high quality and successful. 
Self-Publishing Costs: An Overview
Before we get into the breakdown of the many potential costs, I'll give you a general overview of the potential expenses to self-publish your book.

These prices are based on averages and do not reflect exact pricing.
With the emergence of digital products, on Amazon and many other online platforms, the cost of writing, editing, and creating a book product from start to finish is very affordable.

So how much does it cost to publish a book?
Before I break down the cost to self-publish and the choices available to you, let's take a quick look at what to expect from publishing your own book.
Keep in mind, these costs are based on averages, and the cost of publishing a book may be slightly more or less in your case.
A Sample Budget: The Cost to Self-Publish a Book
How much does it cost to get a book published? There are no cut and dry numbers for publishing costs.
How much it costs to publish a book comes down to what you can afford, the size of your platform, and what you have to pay to scale up your book business.
Here is a breakdown of how much it costs to publish a book yourself:
| | | |
| --- | --- | --- |
| Product/Service | Details | Cost Range (US$) |
| Author Tools | Writing software, educational courses, apps, templates | $50—$500+ |
| Cover Design | High quality cover design to give your book that look of professionalism it needs | $300—$600 |
| Professional Editing | You need an editor to make your book readable and loved by fans. | $500—$1500 (average 2 cents p/word for line editing) |
| Formatting | Your book has to look as good on the inside as it does outside. Get formatting for you eBook, paperback and hardcover (optional) book. | $100—$500 (Pricing varies on formatting needs: Book size, graphics, tables, color photos |
| Book Launch (promo sites) | You can purchase book promo services to promote your book at the 0.99 price point to boost sales and Amazon rankings | $10—$600 |
| Author Website | Make your author branding get noticed with a professional looking website | $500—$2000 |
When it comes to investing in your book project, you need to ask yourself two questions:
How much can I afford to spend? Knowing your budget is important. You may not have $3000 to spend on publishing a book. That is okay, I will provide cheaper alternatives to publishing and you can still have a quality product.
How important is profit to you? Of course, we all want to earn back the money we put into our books. So, we will look at the best ways to invest your money in order to maximize profit. You'll want to find out: How much do authors make per book? Then, you can work out how much you're willing to invest in your book to hit your profit target.
Low quality books are published every day on Amazon and other platforms. These books don't sell. They are riddled with grammatical errors, have cheap covers, and scream "amateur." 

We know that anyone can write and publish a book. But not everyone will do it right and succeed.

Remember: The average self-published author, according to recent polls, earns $500 a year. That isn't very much considering how much it costs to publish a book is around $1500 on average (and this is on a shoe-string budget).

If you want to earn more than the average, and create a stream of passive income that surpasses your current job salary, investing in your book and learning everything you can about how to create a high quality book that sells is the best path to take.

But you don't have to spend $5,000 either. Quality does cost money, but you can still put out a good quality book without breaking your account.
Now, let's break down each section of the chart above so you can confidently answer the question: "How much does it cost to publish a book?"
Author Training and Education Costs
When answering the question of how much does it cost to publish a book, most people may not think about self-publishing education. But this is a huge step in setting yourself up for success. 

Before you start writing a book, you should do your research and educate yourself on the process first.

There are many steps to self-publishing. Without the right guidance or education on what it takes to self-publish your own book, you could end up spending more than you have to.

In fact, you could end up investing your hard-earned cash and limited budget into the wrong company.

You might unknowingly get sucked into signing up with a vanity publisher or wasting cash on promo packages that have no impact on sales.

I would recommend you check out the best self publishing companies and self-publishing courses. Compare value and pricing and get into a good course so that you have a community supporting you and a step-by-step blueprint for getting everything done the right way.

On average, you can expect to pay $500—$5000 for a quality self-publishing course, ranging from beginner courses for first time authors to advanced courses in book marketing.

If a course isn't an option for you, then you can invest $20—$100 for the best books on self-publishing. From publishing your first book to marketing to writing hacks, there are no lack of resources.

Here are some book recommendations to learn how to self-publish your book:
Book Publishing Tools to Budget For
Another factor to consider in the how much it costs to publish a book are the writing and author tools that boost your productivity and save you time.
Effective writing tools also play a huge role in helping you stick to your writing goals. For example, you might invest in your favorite book writing software or novel writing software program to help you write your book faster.

Setting up your author space for writing doesn't have to cost a lot of money. Here is our list of recommended author tools:
Publisher Rocket
Let the software do the work for you. Publisher Rocket will save you hours of valuable time by helping to sort out the best categories and keywords for your book. A valuable tool and a must-have for any author.

Hemingway Editor App
Improve your writing before you publish it, or polish it up before sending to an editor. The Hemingway Editor App is a great tool for just $29. 

MindMeister
MindMeister is an online mind mapping tool that lets you capture, develop, and share ideas visually. You can use the free version, or the $12.99 version.

Scrivener 3.0
Scrivener was designed just for authors by authors. It has multiple features that boost productivity and help you to organize/format your book. It costs around $40-$45 depending on your package.

The Pomodoro Technique
Boost your writing productivity with the world-class Pomodoro Technique, which is a daily or weekly process that allows you to boost productivity by focusing on a task for a specific amount of time.

K-lytics
K-lytics will help you sell more books, rank higher, and achieve a higher return on publishing investments.
Professional Publishing Services Costs
To self-publish a high quality book, you need to budget for the cost to hire professionals to provide book publishing services.
So, how much does it cost to publish a book with these services? Let's break them down.
Professional Editing and Proofreading
No matter what you have been told, you shouldn't edit your own book. It is vital that you hire a professional editor when budgeting how much it costs to publish a book.  

Self editing and rewriting is highly recommended, but after that, ship your finished manuscript to a professional editor.

Next to your book cover design, the editing is the one area you don't want to skimp on. Hiring a bad editor can significantly harm the sales of your book. It's exhausting and frustrating for readers to get distracted by a book's typos and grammatical errors. 

Here is a breakdown of the different levels of editing, and the average cost for each service:
Copy Editing: In this type of edit, the editor will correct sentence structure, inconsistencies, tense, spelling and grammar, as well as some content feedback.

Proofreading: This is what most people think of when they think "editor." This type is when your punctuation, word choice, dialogue structure, and more is corrected.

Structural Edit: This is where the editor organizes the structure, moves pieces around, and suggests changes based on how the information comes across in its order.

Developmental Edit: This type of edit is when the editor pays close attention to how each chapter builds on the previous, as well as comments and feedback on the content itself.
Formatting and Interior Layout
If your cover design is showcasing the exterior of your book, interior layout design is the experience readers will have as they are flipping through the pages. Just like the cover design, a professionally formatted book is a must-have.

When factoring how much it costs to publish a book, make room in for budget for a formatter. 

You can outsource the formatting of both your e-book and print book for around $60-$300.

The cost of formatting depends on the complexity required. Books heavy with graphics, fancy fonts, tables, charts or graphs will add to the cost.

Here are some sites to find book formatting services:
If you are confident in formatting your own book, we recommend these DIY formatting tools:
When it comes to formatting, hiring the right person for your interior book design is just as important as the cover design. You want to get it right.
Professional Cover Design
Book covers DO matter. Unless you are already a well-established author with a strong following, you can't afford to go cheap on the cover. It has to look good, and it should be enticing to the browser so that they click on it.

Why is this important?

If a potential book buyer clicks on your book to check it out, they are interested. If they are interested, they will check the reviews and book description. Then, a click becomes a buy.
For a cover design, you can spend anywhere from $30 to $1500+. But for a high quality cover design, it will cost you at minimum around $300.

For lower budget covers, Fiverr is a solid option. In truth, years ago when everything on Fiverr cost $5, you would get what you paid for – which meant a sloppy, low-quality cover that rarely did the author's story any justice.

But the cover quality has improved on Fiverr and, although it depends on the designer, you could get a "good" cover for as little as $40 if you choose the premium option most designers offer.
Here are some recommended book cover designers on Fiverr:
Let's take it up a notch. If you have a bigger budget and can afford $200-$1000, you will likely get a higher quality cover and better support.

Here are our recommended sites for creating quality book cover designs:
For pre-made book template designs you can check out:
Canva (For DIY options and creatives)
Before your book launch, share your cover design with people in your community, online following, or friends or colleagues you trust to give you honest feedback.

Factoring in the price for a solid cover design when determining how much it costs to publish a book will give your book the fighting chance it deserves in the busy marketplace!
If you're learning how to write a children's book, you'll have to factor in the cost of a designer for your book's cover, as well as the interior illustrations. If you're specifically writing a children's picture book, the use of illustration is super important, and your budget will need to be higher for this.
Audiobook Production Costs
An audiobook can be a great addition to your income stream.
There are basically two ways to create an audiobook:
Record the audiobook yourself, or;
Either way you choose will cost you money, but the DIY option is cheaper and once you have the equipment set up, can use it again and again to create audiobooks for cheap.

The cost varies if you are doing fiction or nonfiction, too. If you have a novel with multiple characters and want different people to read the many roles, it can become expensive, especially if you're using very talented actors.

Record the Audiobook Yourself
To record this yourself, the basic equipment could run you from $600—$2000, depending on the needs of and quality of the equipment. Also note, prices vary depending on conversion rates for your country.

The minimum recommended equipment for creating an audiobook:
Audio Technica ATR 2100 Mic / $70—$120

Blue Yeti Mic / $120

Dragonpad Pop Filter / $10

Portable Laptop Noise Reduction Stand / $150

Shure A 15HP High Pass Filter / $50

Barrier Curtains / $20

Auralex Studiofoam Wedgies [for noise reduction] / $90—$100

Mini-Recording Studio / $140

GoogleDrive / Free [Backup Storage—15GB]
Total cost for setting up your own audio recording studio: $600—$1000

Hire a Professional Audiobook Artist
As with the DIY recording studio, the price range varies depending on the audiobook artist talent, experience and the overall length of the book.
If you need to hire multiple people for recording, this could get expensive.

On average, for a nonfiction book ranging in size 30k words, expect to pay anywhere from $600—$2000.
Here are our recommendations for hiring audiobook narrators: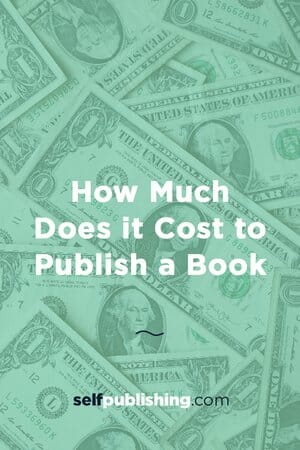 Book Promotion Costs
If you want your book to take off when you launch it, consider book promotion sites when you figuring out how much to costs to publish a book.
But be careful, because you could end up throwing cash away on the bad promotional sites.
The prices vary from $5 to $200. These sites will promote your book while it is free, at a discount price of 0.99 cents, or at full price.

For the best results, I recommend using the best book promo sites when your book is at the discounted promo price of 0.99 during your book launch.
You'll get paid results that count towards book rankings. This will boost visibility for your book and tells the Amazon algorithm that your book is selling, which will help it to be promoted to Amazon shoppers.
The regulations and rules vary for each book promo site so be sure to check before signing up. Some sites require a minimum of 10 reviews before you can use their promotional services.
Here are the best book promotion sites we recommend:
How much you decide to spend is up to you. I would when factoring book promotion into how much it costs to publish a book, I would budget between $100—$500.
The more you can stack up during launch week, the better your book will rank overall in the store when the launch is over and the book rolls out of the 30-day new release funnel.
Advanced Book Promotion Costs
When it comes to advanced promotion, there are many ways to spend your money for ongoing book marketing and driving traffic to your books and website.
Here we will introduce three methods you definitely want to invest in to level up your book business.
Email Marketing Tools
Build an email list: You should be building an email list if you haven't started yet.
The start up cost for this is relatively low. You will need to sign up with an email service provider (also known as an email marketing platform) where your addresses will be collected and managed in confidentiality.

The top email marketing tools we recommend for authors are:
Pricing: The cost really depends on several factors. Mailchimp provides a free service for the first 2,000 subscribers. ConvertKit provides 30-days free to try it out then you pay a monthly fee after that. Your monthly fees usually depends on subscriber volume.

MailerLite is free if you have up to 1,000 subscribers (with limited features). For a maximum of 2,500 contacts it costs $15 a month, $30 monthly for 5,000 contacts, $50 per month for 10,000.

But keep this in mind: If you are paying $200 to an email marketing service because you have a list of 20,000 subscribers, that is NOT a bad position to be in. With this list, you can market and sell your book products continuously to your fan base.
AMS Advertising and BookBub Ads
Running ads for your books is a great way to keep sales coming. But ads are not free and if you use Amazon Ads, BookBub Ads or Facebook Ads, you should set aside a monthly budget. Factor this in when determining how much it costs to publish a book.

It's up to you how much you can afford, because when it comes to promotion, you can spend way more than is needed.

Where some authors only spend a few hundred dollars a month, Mark Dawson (Facebook Ads for Authors) spends thousands every month (and generates great results from his ads).

If you start with advertising, before rushing in and throwing down your money, it's recommended that you spend time researching these sites first and figuring out how they work.

You can check out the programs over at Self-Publishing School to learn how to promote your book effectively.

On average, if you budget $50—$200 to start with for your marketing publishing costs, you can scale up with the ads after some money comes rolling in.
Scaling Up Advanced Marketing
When it comes to spending cash on book marketing, you can cut a hole in your pocket and just start dumping money in. There are endless ways to do this, but not everything will deliver results.
It is best to focus on one or two strategies at first and then, when you see positive results, try something else.

Avoid scammy publishers that promise to get you massive book deals worth millions or a New York Times Bestseller. Success comes with doing the right things at the right time. Plus, learning from what works for you…and what doesn't.
Author Website Fees
Building an author platform is a great consideration if you're looking to expand your business, write blogs, and promote your work.
You can build a complete website, or just a landing page with a call-to-action to get users to opt in for your newsletter.

It's also important to capture leads to build your mailing list. A lead capture form on your website helps you find quality leads and determine your primary audience.

Here are the essentials to build your author website:
Hosting
You can sign up for hosting with servers such as FastComet, Bluehost or Hostgator. The cost would be around $140 – $180 per year, which is reasonable for website hosting. You will get a discount when you sign up for the first year, but pay full price when you renew.

Domain Name
You can purchase a domain name to secure your brand and start driving traffic to your site. Check out Name.com. A domain name will cost around $10-$15 per year.

Premium Theme
Your theme is going to boast the overall design of your site…so it has to be good! More importantly, it should be relevant to the brand.
When it comes to themes, you can with free themes that WordPress offers. Or, pay some money and buy a premium theme. I believe the paid themes is the better way to go. You own and it is easier to customize.

Paid themes can range from $20 – $200 [and higher], but for this range you can definitely get the theme best suits your brand. Add this into how much it costs to publish a book.

Recommended paid themes:
Total Cost for an Author Website: $$700 – $1500. This pricing depends on how robust you want to go. There are companies out there that will set everything up for you as well. This cost is definitely something you need to factor in when answering the question: "How much does it cost to publish a book?"

History of Publishing Costs
Now that you know how much it costs to publish a book today, let's take a look at how things used to be.
As a self-published author back in 1995, I know that the cost to self-publish was a lot higher than it was today.

The biggest reason for the price difference was because it was before the rise of Amazon's Kindle Direct Publishing (KDP), which made print-on-demand technology readily available. During that time, scammy vanity publishers overcharged authors.

Many authors, rejected by big house book publishers, would turn to self-publishing as a final option to seeing their published book dream realized.

There were not that many options for print books, except for going through a publisher or local printer that ended up costing you thousands of dollars. Many of these books eventually took up space in your garage until you could get rid of them.

An example is James Redfield, who self-published his first novel, "The Celestine Prophecy," in 1992. He sold the book one copy at a time out of the trunk of his car.

Yes, back in those days (and it wasn't so long ago) the investment and the risk was very high. No one wanted to fork out a bunch of money just to stock their garage with printed books that wouldn't sell.

Today, self-publishing services, and the cost of publishing a book, are much more reasonable than the choices authors were given before. Thanks to digital publishing and print-on-demand technology, we can sell our books through many online platforms with the click of a button. 

Modern authors now have the luxury of deciding between self publishing vs traditional publishing when it comes to getting their book on the market.
Can you publish a book for free?
While it's technically possible to publish a book for free, it's not recommended. Readers have plenty of choice so a book that hasn't been invested in is unlikely to succeed.

Moving Forward: What is Your Next Step?
Now you know how much it costs to publish a book the right way. Even if you don't have a lot of cash to put aside for your book budget, it's important that you do not skimp on quality.
Regardless, while you should avoid going super cheap on creating a high quality book, you don't have to spend $10,000 either. With less money, you can still publish a quality book – it'll just require more time, effort, and resourcefulness on your part.

First things first: Write an amazing book.
If you need some tips on how to write your first book, you can check out how to go from blank page to bestseller right here.

Before spending money on your book launch, make sure your novel is polished to the highest possible standards. Then, build a launch team, set everything up on Amazon, and launch it like a rockstar.

With the income you make from your first book, roll it into creating your 2nd bestselling book!